"From Immigrant to Master's Graduate: A Journey of Resilience and Achievement in Mechanical Engineering"
"Navigating Challenges Abroad: A Student's Journey of Struggle and Triumph"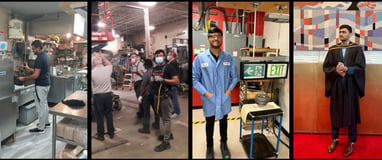 🌟 Celebrating a Milestone: From Immigrant to Master's Graduate in Mechanical Engineering 🌟
Hello fam! 🌎✨
I am thrilled to share with you all a significant achievement in my journey. Today, I am proud to announce that I have successfully completed my Master's degree in Mechanical Engineering! 🎓🚀
As an immigrant hailing from India, this moment holds immense significance for me. Arriving in Canada with dreams in my heart and determination in my soul, I embarked on this challenging yet fulfilling educational endeavor. It was not an easy path, but with relentless hard work and perseverance, I can proudly say that I have achieved my goal!
Throughout my time in Canada, I juggled my academic pursuits with part-time work at a local restaurant to support myself and contribute to the daily expenses. The long hours and demanding schedules taught me invaluable lessons in time management, dedication, and the importance of never losing sight of my ambitions. I am grateful for every moment of that experience as it has shaped me into the resilient individual I am today.
I would also like to take a moment to acknowledge the support of the educational loan that made my pursuit of higher education possible. The financial assistance provided me with the means to cover tuition fees and other educational expenses. I am immensely grateful for the opportunity and I understand the importance of responsible repayment. This accomplishment wouldn't have been possible without the trust and support of the financial institution that believed in my potential.
I would like to express my heartfelt gratitude to my professors, mentors, and fellow classmates who have played an integral role in my academic journey. Their guidance, encouragement, and unwavering support have been instrumental in shaping my knowledge and honing my skills in the field of Mechanical Engineering.
I would also like to extend a special thank you to my family and friends, both near and far, for their unwavering love and support throughout this incredible journey. Your belief in me kept me going during the challenging times, and your presence in my life fills me with joy and gratitude.
As I enter the next chapter of my professional life, I am excited about the opportunities that lie ahead. With my newfound expertise and passion for mechanical engineering, I am eager to contribute my skills and make a positive impact in the industry. I am open to new connections, collaborations, and opportunities that align with my interests.
If you have any advice, suggestions, or opportunities to share, please feel free to reach out. I value the power of networking and look forward to connecting with professionals from diverse backgrounds and industries.
Once again, I would like to express my deepest gratitude to each and every one of you for being a part of my journey. Let us continue to inspire and support one another as we pursue our dreams and make a difference in the world.
#MechanicalEngineeringGraduate #ImmigrantSuccessStory #HardWorkPaysOff #NewBeginnings #LinkedInNetworking
Thank you,
Suraj Thokal
Part-time Chef
at PizzaHut
2021
Service centre Technician at Chameleon Innovations
2021-2022
R&D Intern at ABB, 2022
R&D Designer at ABB (Present)
Master's in Mechanical Engineering, Concordia University
2021-2022